If you like history, mystical quests, astral travel, divine possesion and obscure religious references along with a big dose frenzied pop culture, then the Promethea comic world is for you! The title bar link goes to the Wikipedia entry on this cool comic, and also has the best to-the-point discussion of Promethea's complex universe under "References" and "Common Themes".
This comic is chock full of pagan thought and imagery, particularly the
Tarot
and an off-shoot of Jewish Mysticism, called
Kabbalah
. In order to really appreciate this comic, you'll need to know a little bit about the author,
Alan Moore
. He's an anti-authoritarian Pagan, who decided to develop his own religion, and many of his own interpretions of a multitude of pagan tenets are presented.
I was lucky, I'd already been poking around looking at various Pagan sites, and just reading anything and everything, so I was familiar with some of the material, as well as some of the famous, (or infamous), names in Pagan circles - like
Aleister Crowley
,
John Dee
and others.
Probably the most important information you'll need is on the
Sephirot
, perhaps better described as the Jewish "Tree of Life". It's an extremly complex system describing one's journey through life and one's relationship with the divine during this journey. Numerology plays a huge role in interpreting the Sephiroth, and in Promethea as well. The above Sephiroth link at Wikipedia also includes a diagram - consult it while reading the series, it makes alot more sense that way!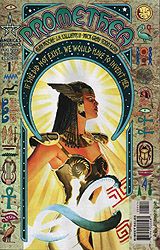 Of course, there is alot to enjoy without all the high falutin' uber metaphysics show too. I especially enjoyed the some of the first part of the series, which deals with the various incarnations of Promethea throughout it's comic book history-the artists,and the writers in particular. Moore's work is what I like to call "nutrient dense" - unlike a McDonald's meal of the usual comic superhero, Promethea always has a deeper and more sustainable level of satisfaction for the reader. In addition, this comic is undeniably feminist, in fact, Moore's work in Promethea is described as
Ecriture Feminin
, (French for women's writing). Perhaps that's why I like the character so much....
Of special note, the comic is outstandingly illustrated, and again, has many levels, from the purely aesthetic to arcane symbolism worthy of a proto-renaissance painting. The picture just above references
Alphonse Mucha
. Many other illustrations echo masters of bygone (and not so bygone!) days, so some knowledge of Art History won't hurt your appreciation of Prometha either.
Now for the most important part of this post - the trivia question!
What is the connection between Promethea, and myself?
-Hypatia